Consultancy
Pipe Stress Analysis Consultants
DOCAN have a broad range of experience in many aspects of piping engineering and pipe stress analysis. Through our pipe stress analysis services, we can help you design a safe and efficient piping system that's built to last.
Pipe stress analysis expertise
We are highly experienced in working on the entire lifecycle of many piping installations, and therefore have a great understanding of all aspects involved from initial concept to completion.
This makes us well-positioned to offer detailed pipe stress analysis services to our clients. We have the ability to identify potential piping challenges and determine the root cause of the problem, before proposing a fully engineered solution.
Our pipe stress analysis services include:
Static & dynamic thermal stress analysis for given load cases
Analysis of occasional conditions such as wind loads & pressure relief valve loads and
Nozzle assessments including nozzle loads, stiffnesses and local stress analysis
Assessment of design modifications including expansions joints, spring supports and more
Pipeline lifting assessments
Structural support Analysis and detailed design of piping supports
Seismic analysis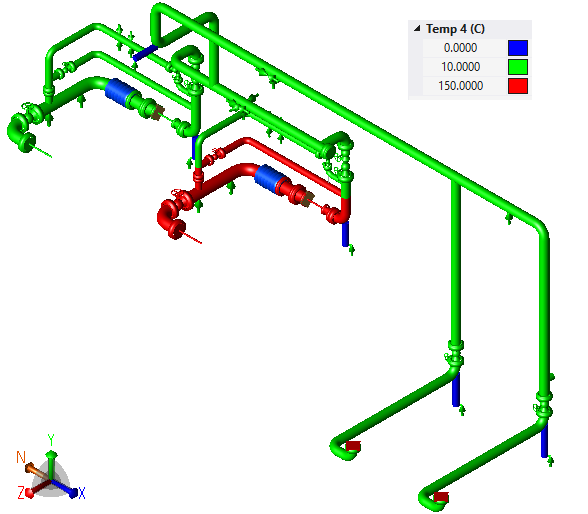 Our approach
Our team of highly skilled pipe stress analysis consultants have unrivalled experience working on piping installations across highly regulated industries including oil & gas and nuclear.
We specialise in conducting both static and dynamic analyses according to various ASME, B31 and RCCM codes.
We utilise a combination of hand calculations, industry-leading pipe stress analysis software, and additional analysis methods such as FEA to deliver accurate, cost-effective results.
We work with you to devise a quality-assured piping solution which addresses and rectifies all of your engineering challenges. We achieve this through performing detailed analysis and delivering comprehensive reports with clear advice and guidance.
Why choose DOCAN's pipe stress analysis services?
As a team of experienced pipe stress analysis consultants, we understand what is required to ensure your piping installations are safe, robust, and don't contribute to any unexpected system shutdowns.
Our unrivalled expertise combined with our technical knowledge and experience working with leading software enables us to analyse a wide variety of problems. We can work to any given codes and standards, and no challenge is too complex.
Our services are flexible and scalable, and can see us working with you from the initial outset to the final construction of your piping installations, or simply providing our thorough pipe stress analysis services as and when you need them.