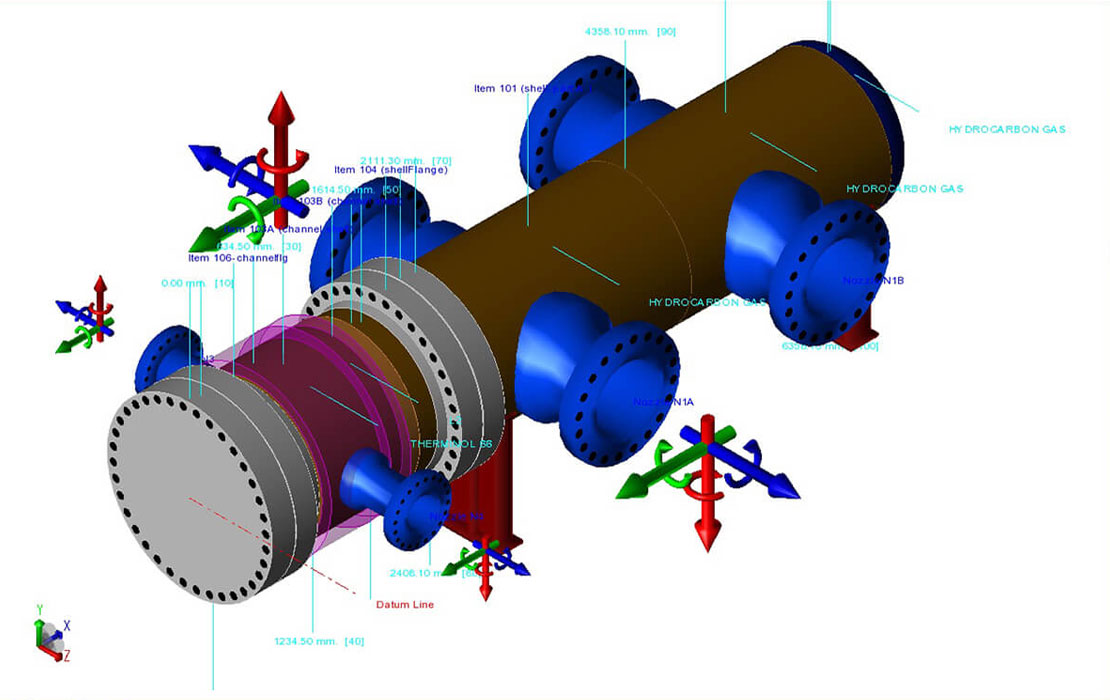 How engineers can use PV Elite
01 / 07 / 22
PV Elite is one of many industry-leading software solutions distributed by DOCAN. Learn how engineers can use it in their pressure vessel design processes.
Hexagon PPM is a global leader in engineering and design software solutions, with over 50 years of experience and an extensive catalogue of software packages that service the industry. Amongst these many solutions is PV Elite.
DOCAN is a Computer Aided Engineering (CAE) software reseller, and PV Elite forms a key part of our suite of pressure systems engineering products.
PV Elite is one of the most recognised programmes for mechanical design of pressure vessels and heat exchangers.
In this blog, we will provide an insight into the pressure vessel design software, and how engineers can utilise it in their projects.
Quick links: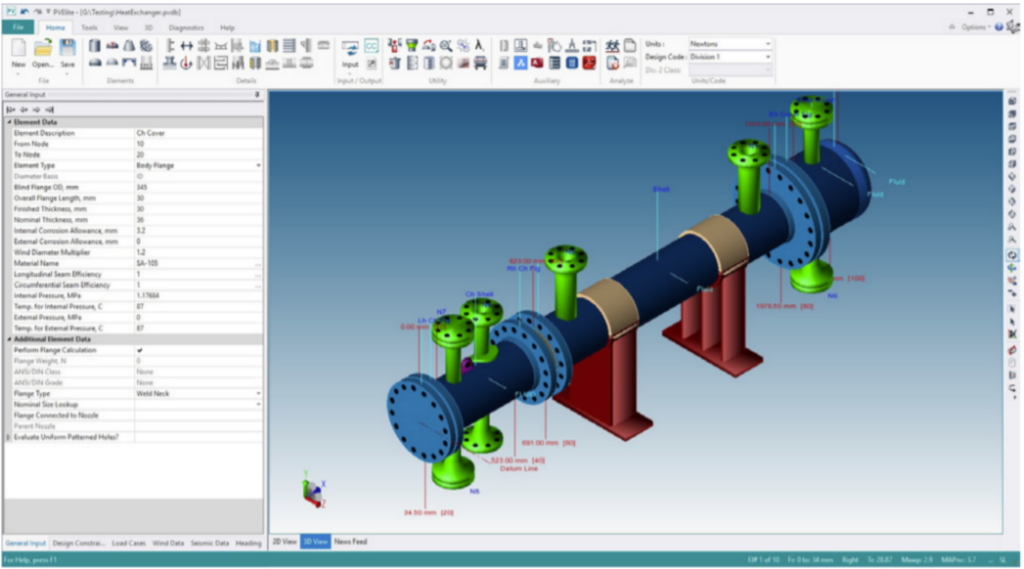 An introduction to PV Elite
As we've just touched on, PV Elite is an all-encompassing solution for the design, analysis and evaluation of pressure vessels and heat exchangers.
Whether you're looking for a quick and easy software for designing new pressure vessels or evaluating existing systems, PV Elite can do both. Its capabilities include model manipulation, Fitness for Service analysis, advanced reporting and much more.
Designed to be easy to learn and use, PV Elite can fulfil the vessel needs of both frequent and occasional users with its simple and intuitive interface.
The software applies the design rules and criteria of all major pressure vessel safety codes, so engineers can have complete confidence in their calculations.
Providing users with end-to-end design capabilities, PV Elite takes the whole pressure vessel into account. The software factors in wall thickness rules and stress analysis requirements of all different types of horizontal and vertical pressure vessels, and heat exchangers.
PV Elite includes all of the following major design codes:
ASME Section VIII Divisions 1 & 2
API 579 FFS
WRC 107, 297, 537, 538
EN 13445
PD 5500
EN 1591 Advanced Flange Design Standard
STS-1 ASME Steel Stack Standard
PCC-1 Appendix O Bolted Flange Joint Assembly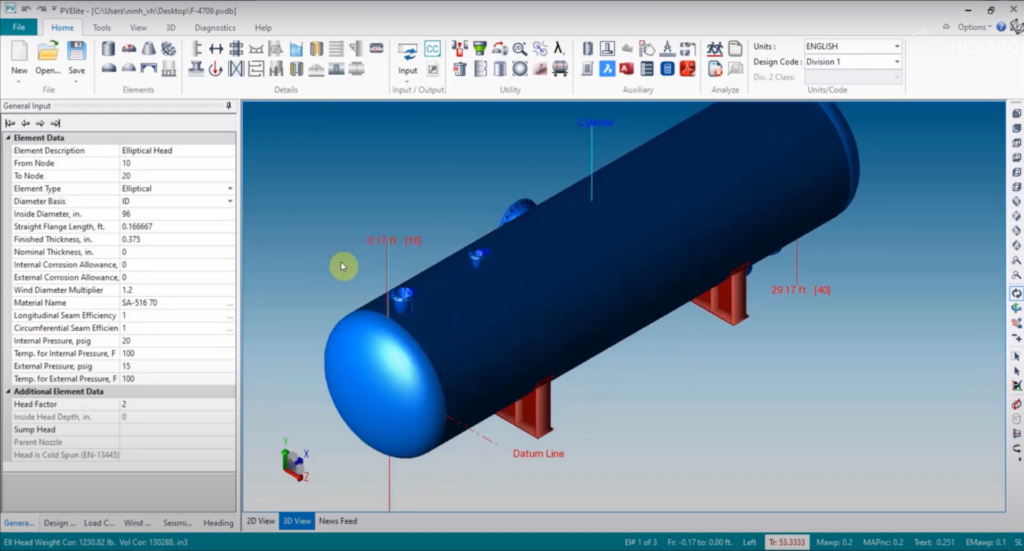 How PV Elite can be applied
PV Elite spans various applications across a wide range of sectors. Some of the most common applications include:
Process and plant design
Piping
Equipment
Petrochemical
Chemical
Power
Offshore
Food
Beverage
Brewing
Pharmaceutical
Water treatment
Shipbuilding
PV Elite can be utilised by any engineer operating in these areas, with a host of tools and features provided to undertake the following tasks:
Pressure vessel design
PV Elite provides the widest range of modelling capabilities, and can be used to design:
General vessels – Users can create realistic combinations of pressure, deadweight, nozzle, wind and seismic loads in accordance with major safety codes.
Complete vertical vessels – Users can define vessels supported by skirts, legs or lugs for complete dead load and live load analysis. Vessels can be tested in either vertical or horizontal positions.
Complete horizontal vessels – Complete stress analysis can be performed on horizontal drums on saddle supports including stress at the saddles, vessel midpoint and heads.
Vessel analysis
PV Elite can be used to confirm a safe proposed design for a vessel, with a thorough analysis of each element.
The software performs all necessary calculations for stress analysis, including:
Rigorous structural load sets
Design evaluate and re-rate modes
Wall thickness for pressure
Wall thickness for total load
Fitness for service assessment
Structured data collection
PV Elite eliminates the need for time-consuming manual data collection that can be prone to user error. Through an intuitive input processor, the software collects accurate data to design, analyse and evaluate any vessel or individual components.
The software will then perform the calculations required according to the codes selected.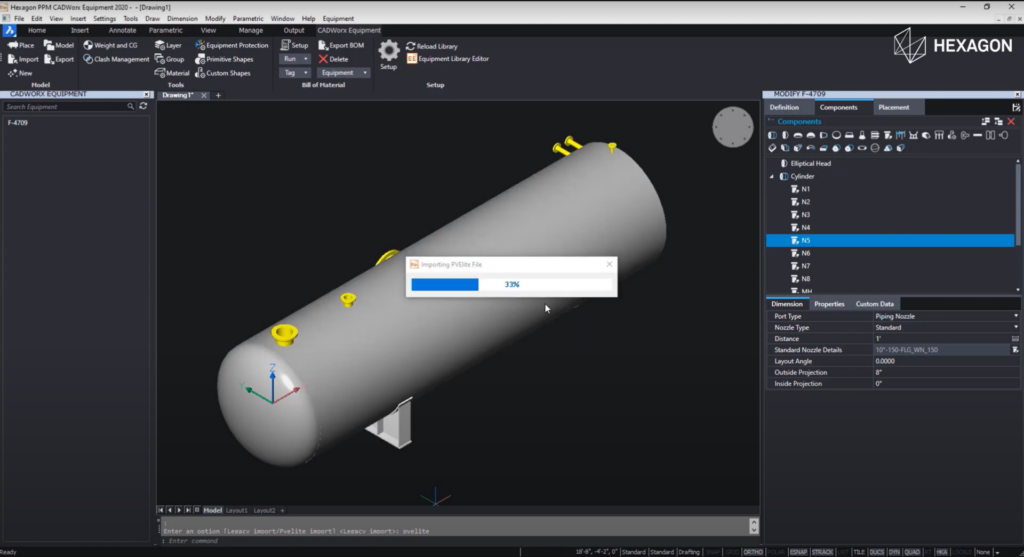 Features of PV Elite
Now that we know what tasks engineers can perform using PV Elite, let's take a look at some of the selling points of the software.
Cutting-edge graphics
Music to the ears of designers and engineers alike, PV Elite provides detailed graphical representation of vessel models, with easy-to-use tools that offer quick and efficient manipulation.
Interactive user interface
PV Elite is designed to be simple to use for anyone experienced in pressure vessels. With that, the program only displays what is needed at each point of gathering information in order to offer a clutter-free workflow.
Advanced reporting
Alongside its efficient analysis capabilities, PV Elite provides accurate and advanced reporting. Results are clearly summarised and grouped by type, with the ability to quickly send them to output reports or export them in your chosen file format.
Integration capabilities
PV Elite integrates seamlessly with external applications including CADWorx and CAESAR II, along with a range of plugins available to improve and streamline internal processes.
PV Elite training & support
DOCAN are fully licensed to offer the PV Elite software to engineers, alongside optional training, support and guidance to help you integrate it into your business.
If you want to purchase or find out more about the software or understand our range of software, check out our software pages and get in touch with us.
Enjoy this article? You may be interested in some of our others: