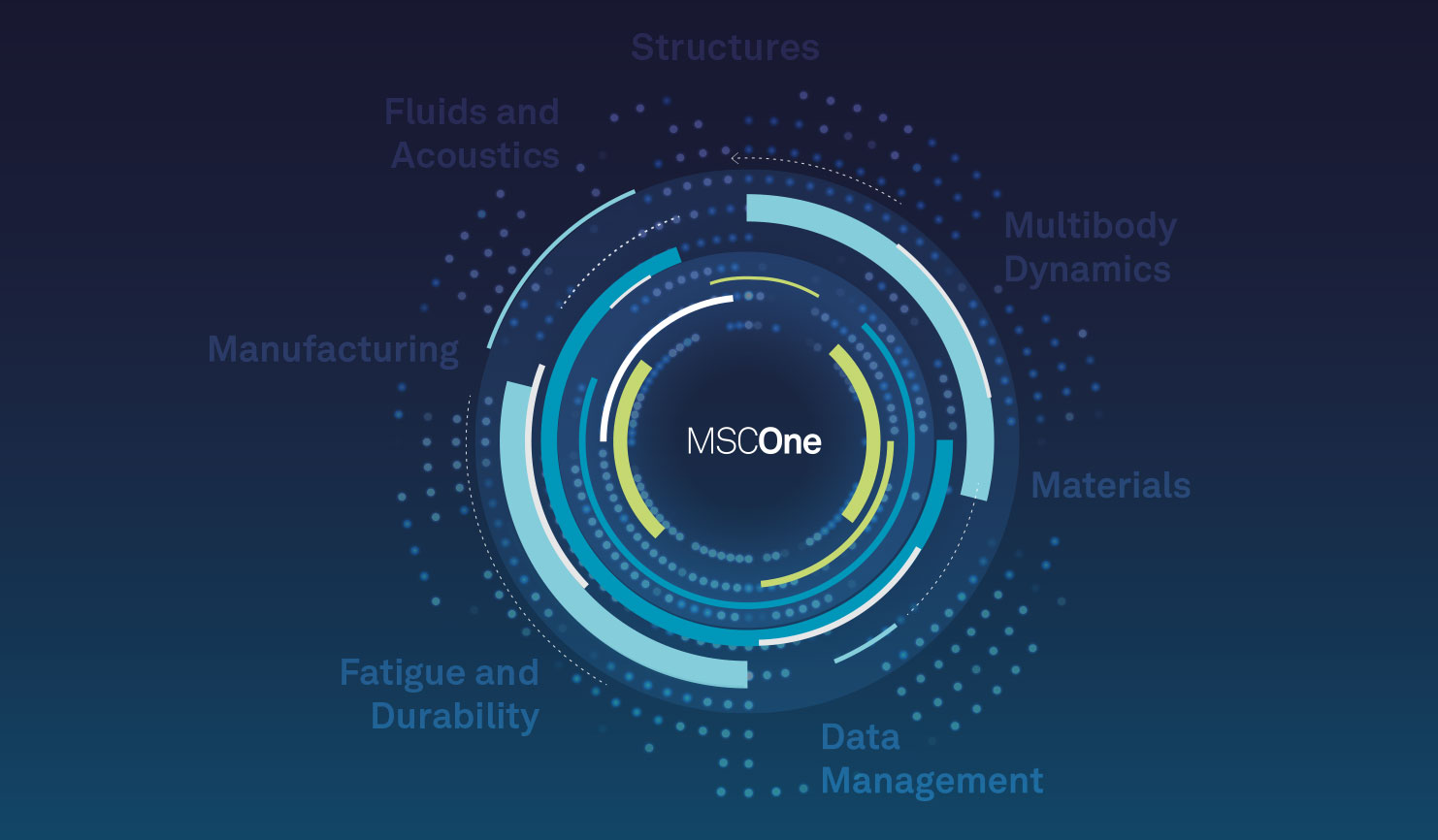 How engineers can use MSCOne
11 / 04 / 22
An overview of MSCOne software solutions, and how engineers can use each tool.
Spanning over 10 application areas and nearly 20 simulation tools, MSCOne is a complete collection of advanced simulation software, allowing engineers flexible access to all the CAE software they might need to make use of.
In this article, we are going to run you through an overview of each application, with particular emphasis on how engineers can use the software tools on their respective projects.
First, an overview of MSCOne
As explained in our intro, MSCOne is a definitive CAE solution. The simulation resources on offer help organisations with their engineering priorities, along with access to an e-learning platform to help develop new skills in CAE.
Taken from the MSCOne website, this is a solution tailed for:
Large-scale global enterprises.
Small-medium sized companies with tight budgets and heavy engineering needs.
Consulting firms that cannot invest in multiple outright per-seat purchases.
Engineering project managers.
CAE engineering departments.
VP of Engineering.
Purchasing and procurement.
How MSCOne can be applied
MSCOne spans various applications, which we have summarised below.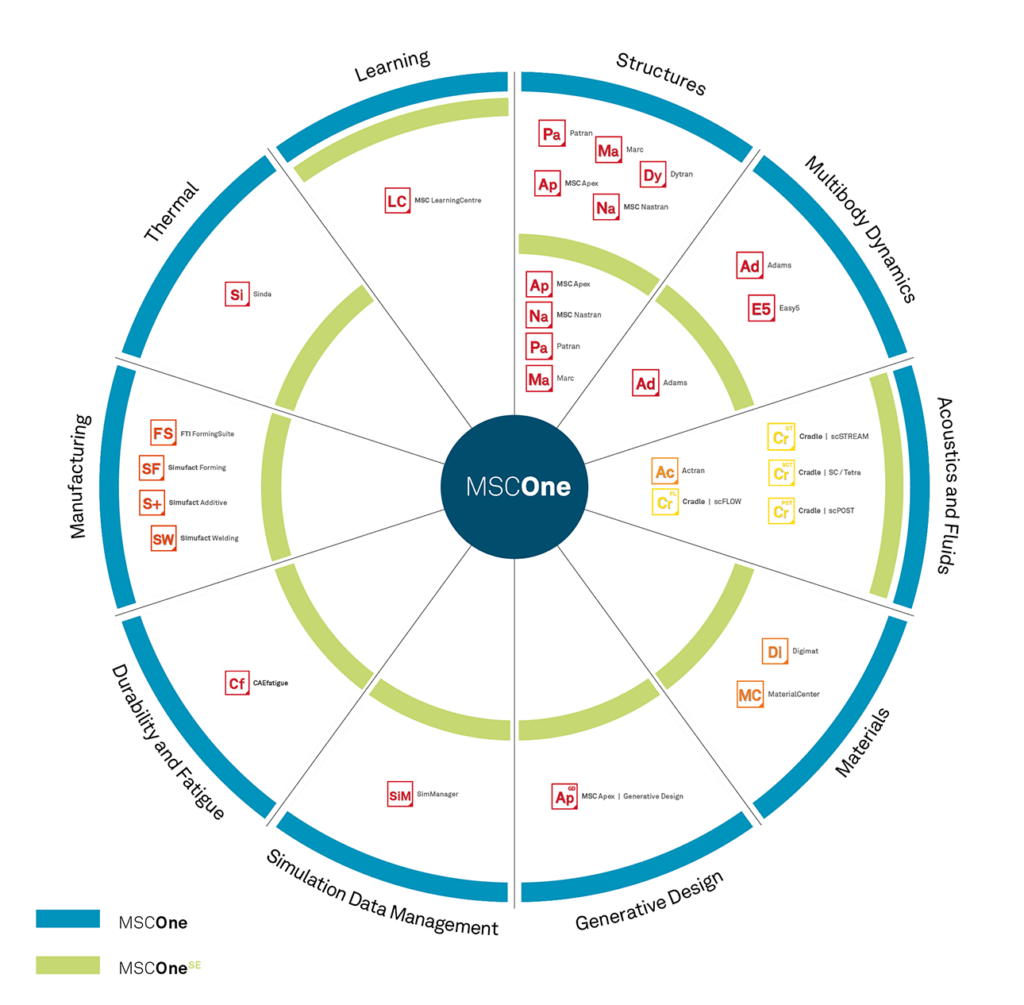 Multibody Dynamics
MSCOne allows the user to perform these multibody dynamic simulations with access to Adams and Easy 5. Engineers can efficiently produce complex systems by categorising connections, allowing components to be connected accurately with minimal user manipulation.
Adams
Adams is a highly regarded and widely used Multibody Dynamics (MBD) software. By enabling early system-level design validation it increases engineering efficiency and reduces product development costs.
Easy 5
Easy 5 lets engineers accurately simulate control systems, hydraulics (including thermal effects), pneumatics, gaseous flow, thermal, electrical, mechanical, refrigeration, environment control, lubrication or fuel systems, and sampled-data/discrete-time behaviour.
Structures
As far as structural analysis goes, MSC Apex and Marc provide you with a full suite of modelling and FEA based analysis systems, which cover all your simulation requirements from rapid and efficient model building and linear analysis.
MSC Apex Modeller
A CAE specific direct modelling and meshing tool, helping engineers to streamline CAD clean-up, simplification and meshing workflow.
MSC Apex Structures
An add-on product that adds capabilities for linear structural analysis to MSC Apex Modeller.
Marc
A powerful, general-purpose, FEA solution to accurately simulate the product behaviour under different loading scenarios, in a nonlinear manner.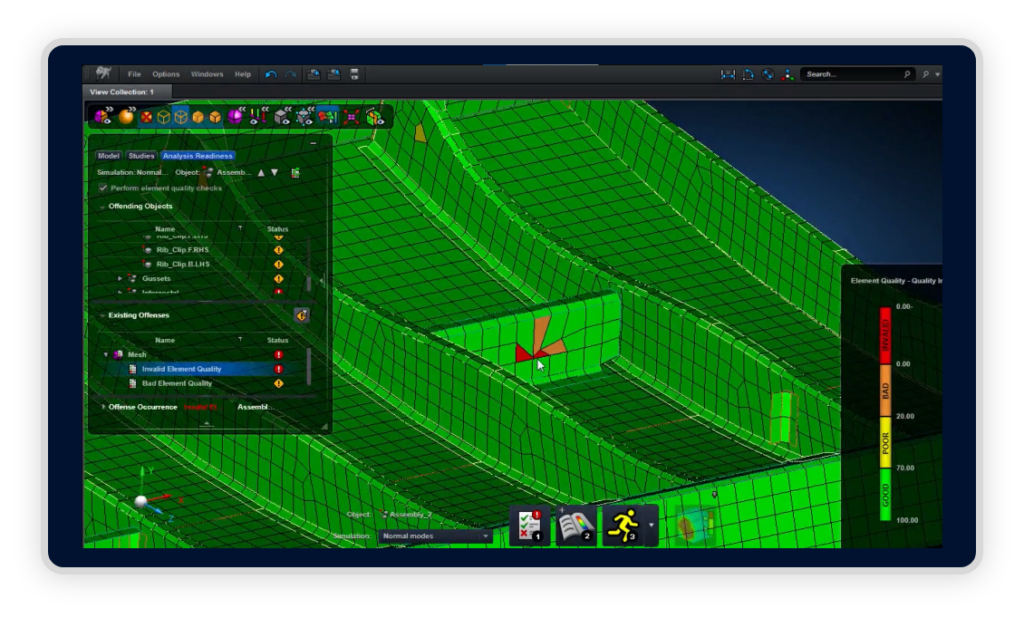 CFD/Thermo-Fluids, Acoustics
MSCOne can help tackle any complexity of fluid or acoustic problems with possibilities to further this analysis with Actran, Cradle CFD and PICLS.
Actran
Actran is the premier acoustics software to solve acoustics, vibro-acoustics, and aero-acoustics problems. Engineers can predict and understand how to design quiet workplaces, vehicle interiors and much more.
Cradle CFD
A collection of state-of-the-art CFD simulation and visualisation software.
PICLS
Even for those who are unsure on thermal simulation, this tool helps designers easily perform thermal simulation of PCBs and obtain a simulation result without stress through the tools' easy and quick operation in 2D.
Generative Design
Comprehensive generative design capabilities are provided through MSC Apex Generative Design.
MSC Apex Generative Design
Based on Finite Element Analysis but, unlike traditional methods, not using a density field – MSC Apex Generative design utilises a very fine mesh with well-defined elements for rapid and targeted design suggestions.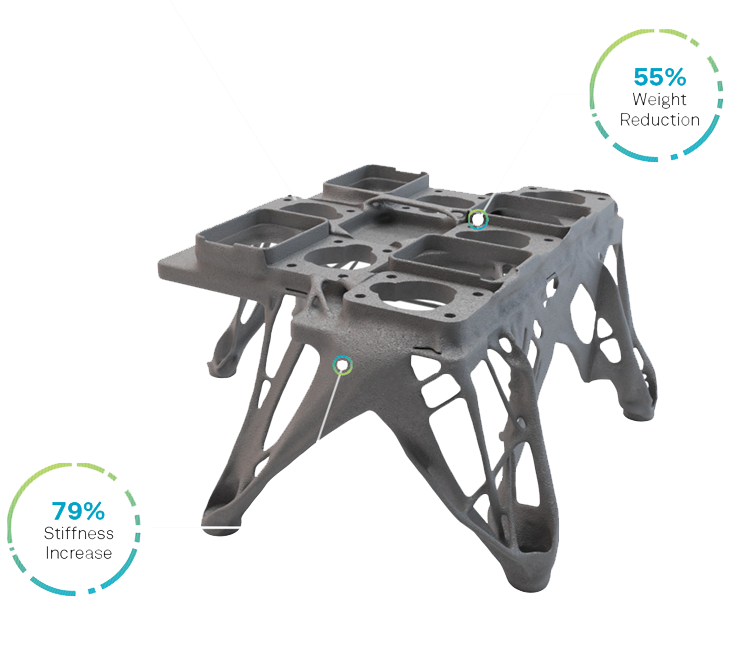 Materials
Engineers concerned with the use and development of materials can find plenty of success in MSCOne's MaterialCenter and Digimat.
MaterialCenter
Designed to link material specialists to mechanical simulation, MaterialCenter is a Materials Lifecycle Management System that captures data from integrated processes to ensure full traceability across the enterprise and throughout the product life cycle.
Digimat
Digimat provides accurate material modelling for additive manufacturing. Accurate material modelling allows engineers to reduce the "factor of safety" – meaning composite materials can be used to their full potential.
Durability & Fatigue
Here, MSCOne offers CAEfatigue (CF) to conduct random response and fatigue evaluations of dynamic mechanical systems in the frequency domain or time domain.
CF processes models from multiple sources including Nastran, NX Nastran, Abaqus, Ansys and Optistruct.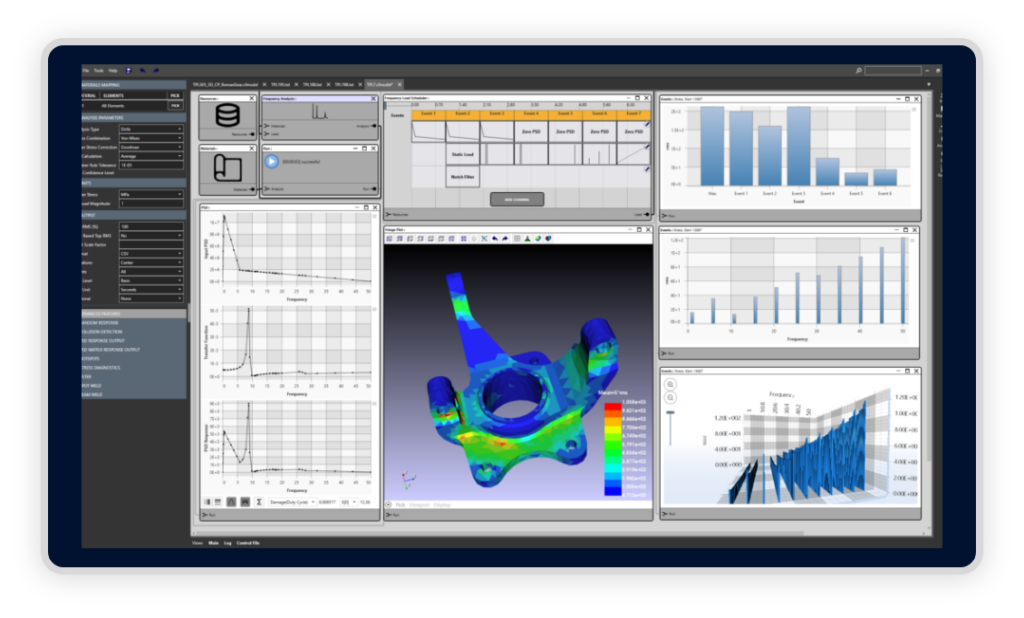 Manufacturing
MSCOne includes Simufact and FTI forming Suite to provide a solution for Manufacturing Process Simulation in the Metalworking Industry.
Simulation Data Management
MSCOne provides SimManager to bring together people, processes, and technology to streamline simulation operations. It is a web-based simulation data and process management system from project initiation through final report generation.
Why purchase MSCOne through DOCAN?
DOCAN is an official MSC Channel Partner, fully licensed to offer expertise alongside the MSC Software products.
We support you in applying MSCOne to your working environment and projects, to ensure that you can maximise the software to its full capabilities. Since our inception in 2017, we have worked hard to establish valuable partnerships with several world-leading software houses and MSC is no different.
As a channel partner, we offer training and guidance to customers in the United Kingdom and the United States.
Enjoy this article? You may be interested in some of our others: