ROHR2 Applications
Pipe Stress Analysis with ROHR2
Engineers looking to establish, expand or improve upon their pipe stress analysis services need look no further than the ROHR2 software suite.
Regarded as the leading European software for pipe stress analysis work, ROHR2 is a CAE system that powers dynamic structural framework analysis of complex piping networks.
Follow the links below to find out more about the packages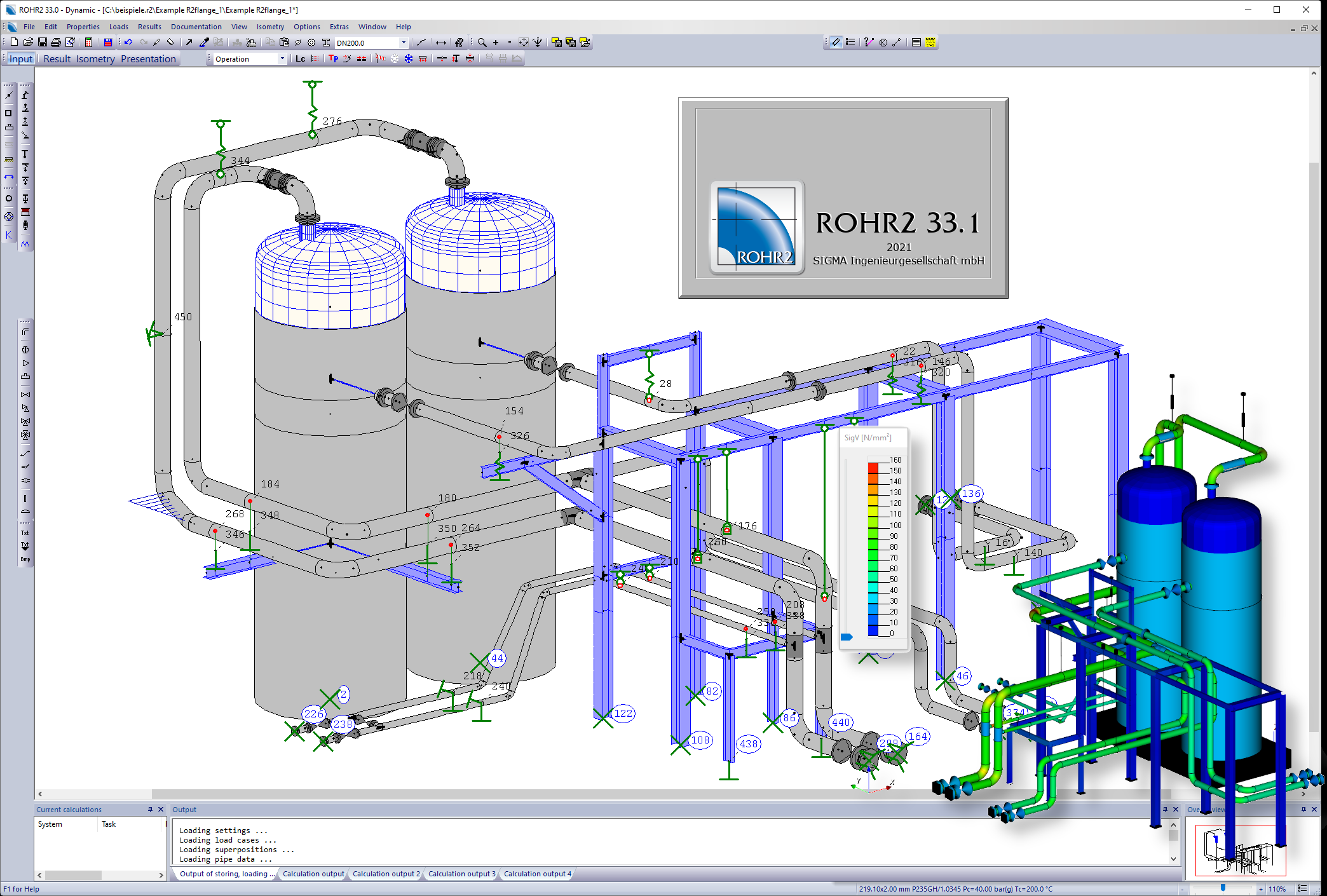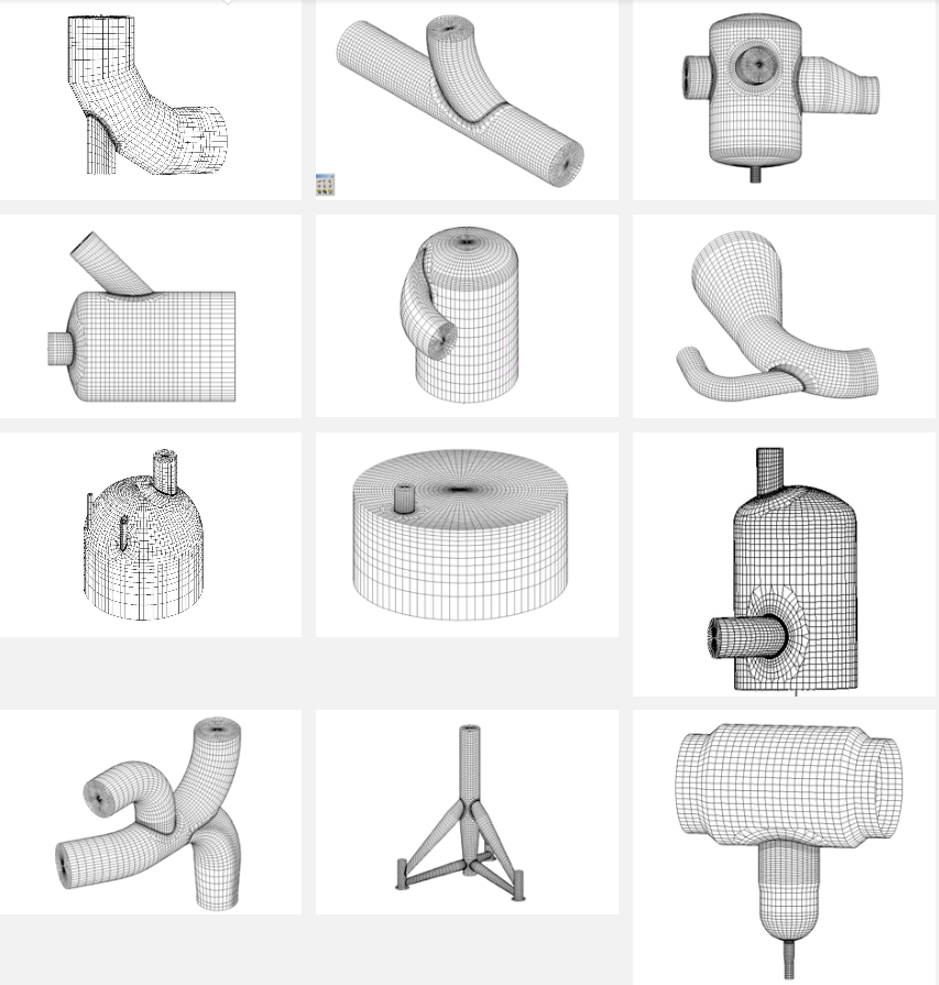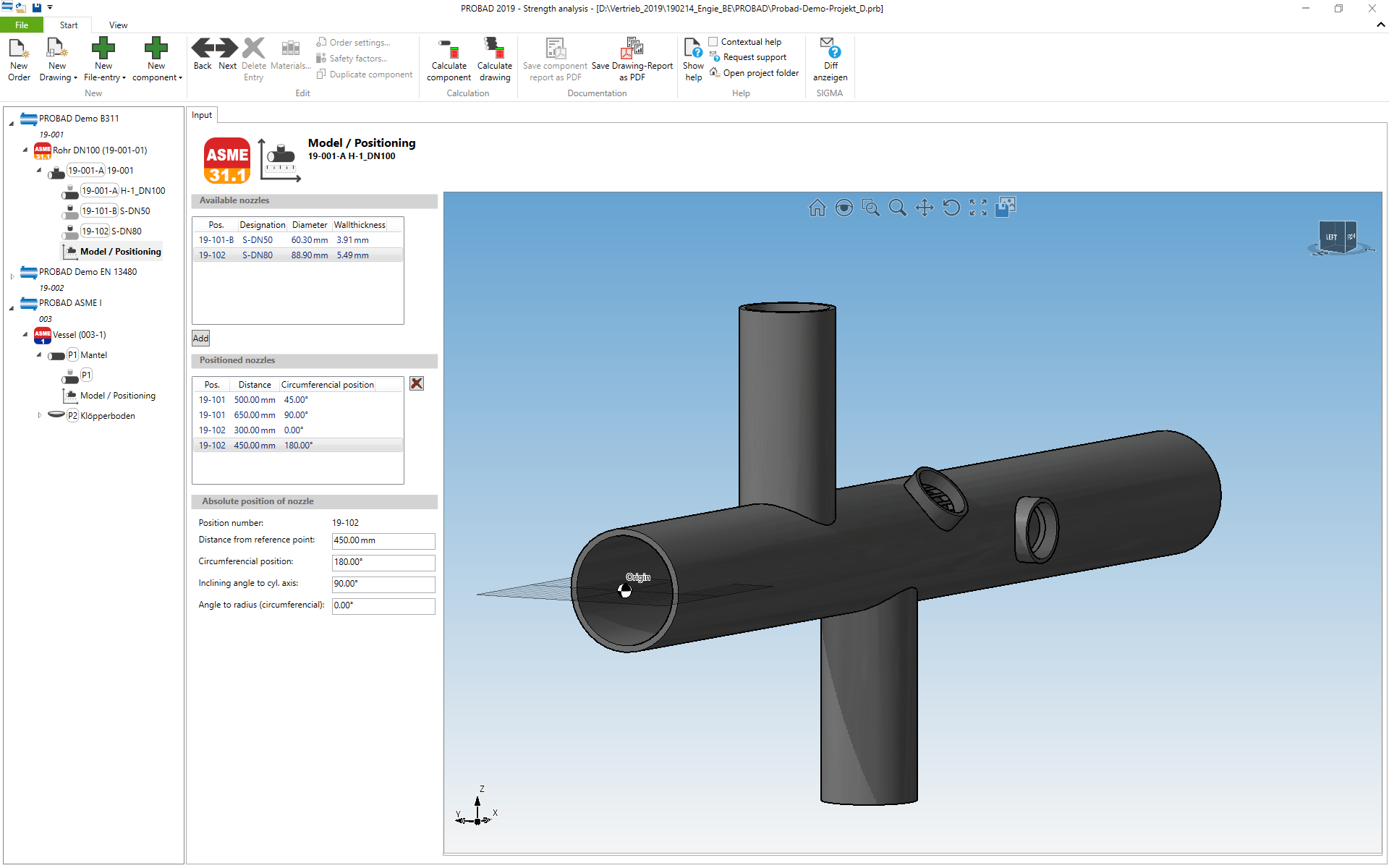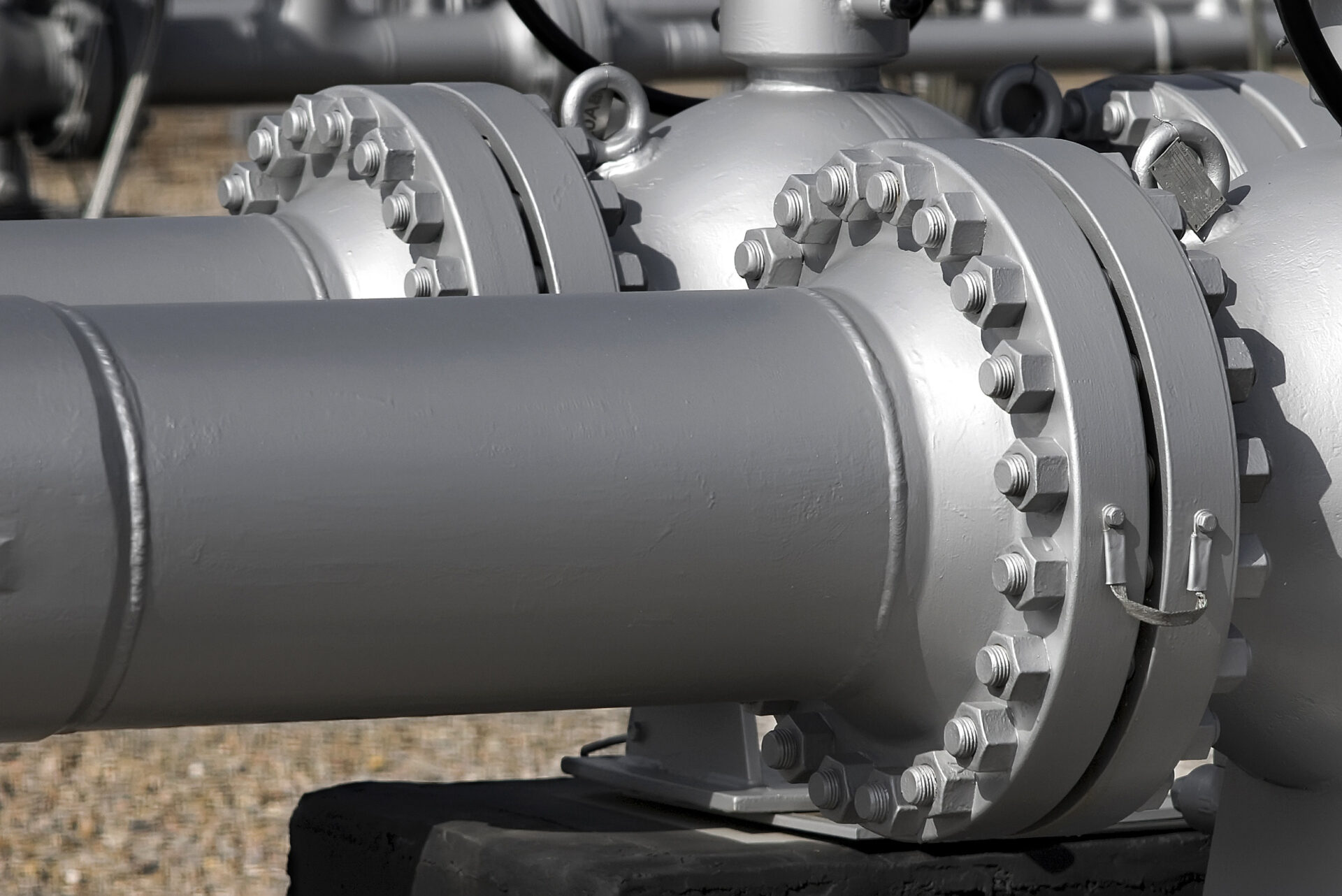 How engineers can use ROHR2
The suite of ROHR2 software products combines to form the definitive platform for any engineer looking to produce a pipe stress analysis report. ROHR2 saves time by allowing us to import 3D piping geometry from design packages into a pipe stress program that is easy to use, intuitive and streamlined.
The ROHR2 software program includes dedicated modules for FEM analysis (ROHR2FESU), isometric generation (ROHR2ISO), and a wide range of interfaces covering the leading CAD/CAE systems, including CAESAR II, PIPENET, FLOWNEX, .PCF, and more.
Almost everything within ROHR2's interface is fully customisable. Colours, line widths and styles can all be interchanged, giving you full control over the displayed information on a very detailed level.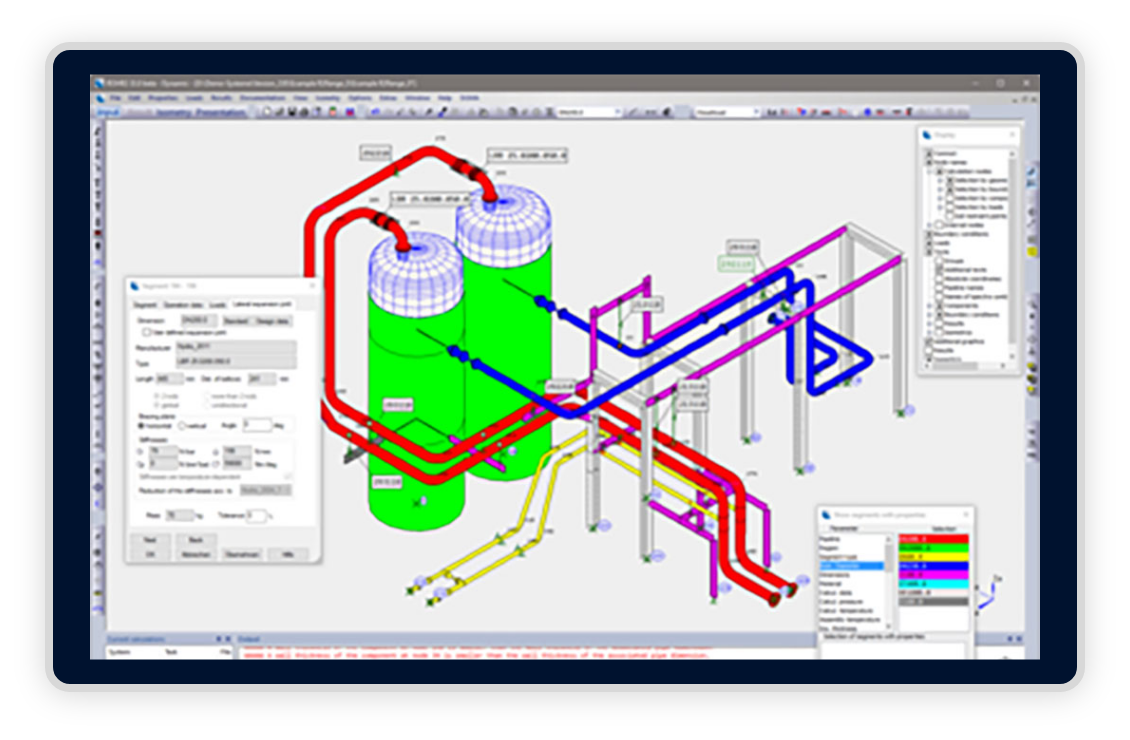 Using ROHR2 software for static analysis
ROHR2's static analysis covers the analysis of any loads and load combination, according to first and second order theory for linear and nonlinear boun¬dary conditions.
It also covers special fields of pipe static analysis, including buried piping, hanger displacement and friction, jacket piping and nonlinear bedding.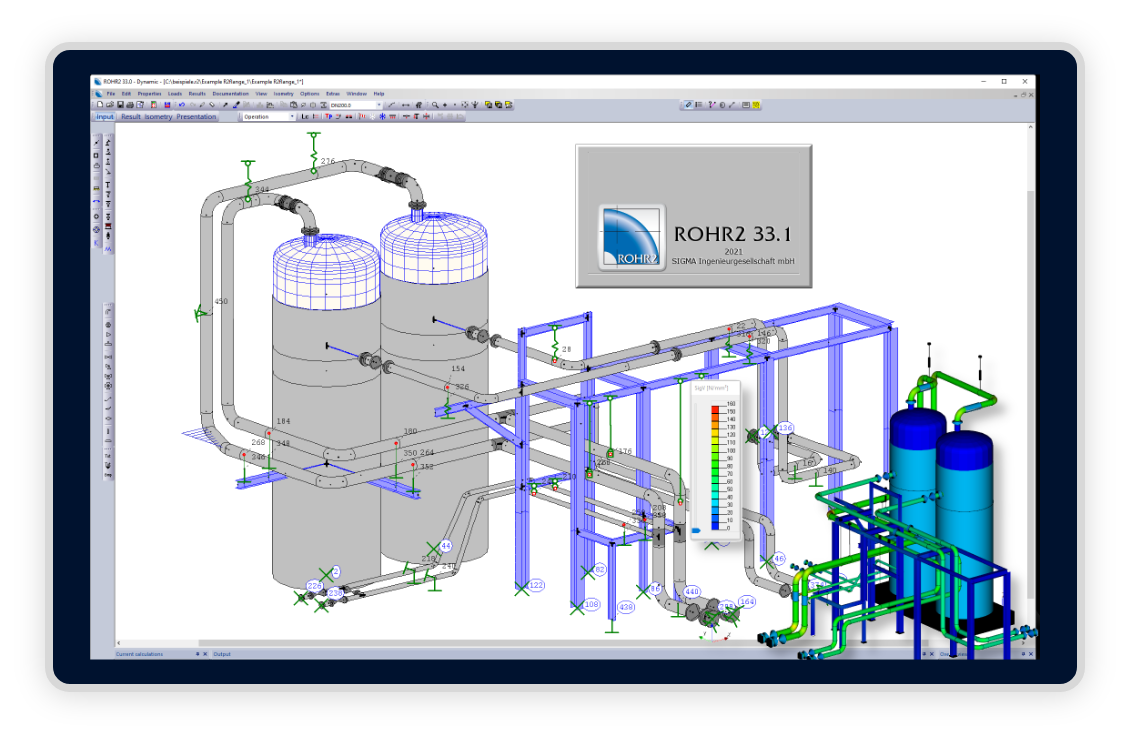 Using ROHR2 software for dynamic analysis
ROHR2's dynamic analysis includes the calculation of eigenvalues and mode shapes and their analysis by means of different modal response methods or direct integration method (e.g., analysis of fluid hammer forces). Earthquake analyses are performed based on the Method of Time – History.
An efficient superposition module enables a versatile selection and combination of static and dynamic results as well as the generation of extreme values for loads on supports, components and nozzles.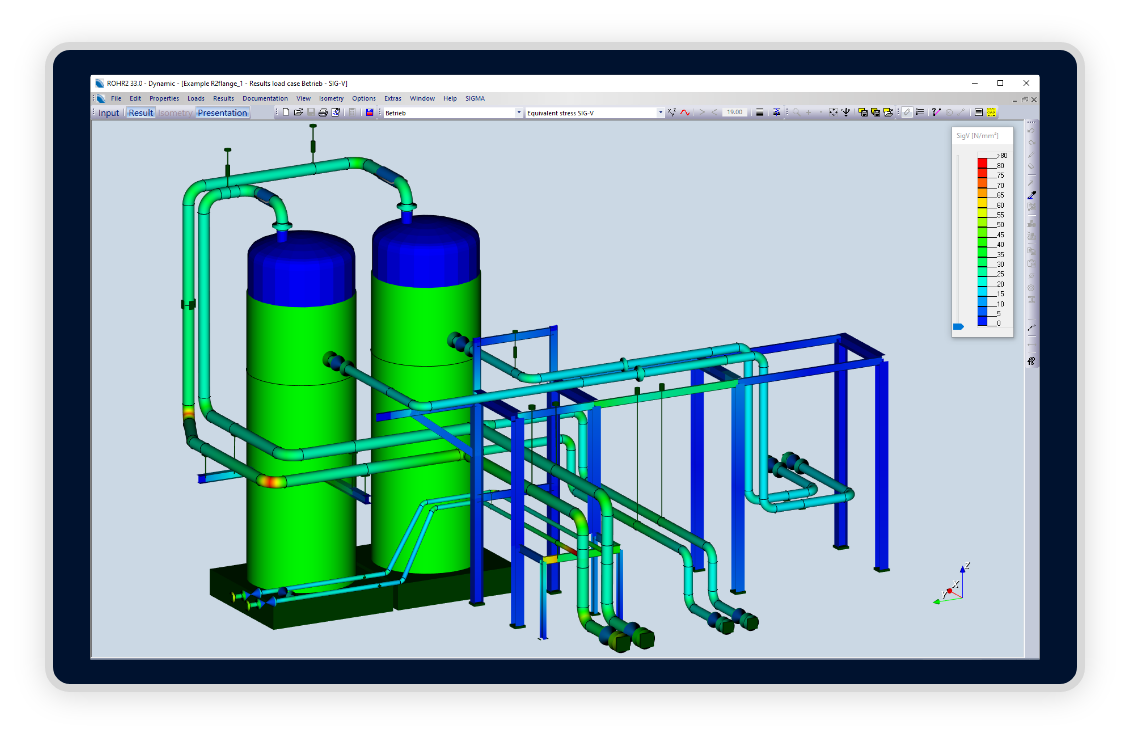 Why use ROHR2 for pipe stress analysis?
With a respected history that dates back to the late 1960s, ROHR2 are one of the leading European software vendors. Licensed and operated by engineering company SIGMA, ROHR2 is a field-tested product that can be customised and adapted based on the needs of the end user.
Streamlined system integration is a big part of what ROHR2 has to offer. There are a large number of interfaces for the transfer of data across CAD and CAE systems. With a graphical user interface that includes a variety of export and import formats, graphics, and views, bringing your external work onto a pipe stress analysis platform has never been easier.
The software has been produced from a strong collaboration between experienced pipe engineers and program developers. It is under constant development for two reasons. The first is to ensure that the software falls in line with any changes to stress calculation codes. ROHR2 also makes regular updates to the user interface in accordance with growing user needs and capabilities.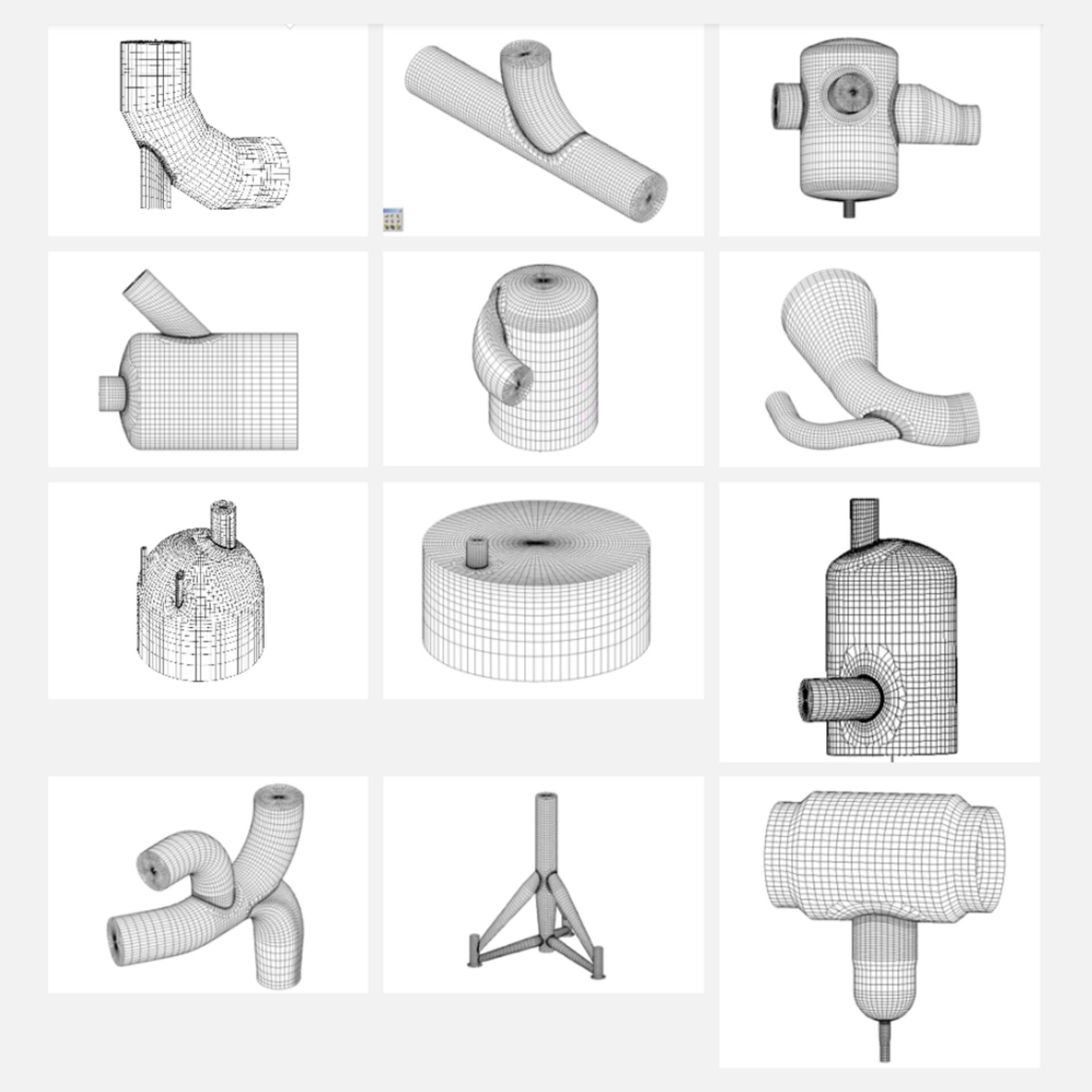 ROHR2 software is tested and verified to internal quality standards and extensive field tests. Qualified pipe engineers and software developers provide user support on the periodical updates that are made.
Engineers are always looking to reduce cost and time without impacting upon results and ROHR2 provides that in the way of an interactive pipe analysis software that is utilised by companies worldwide.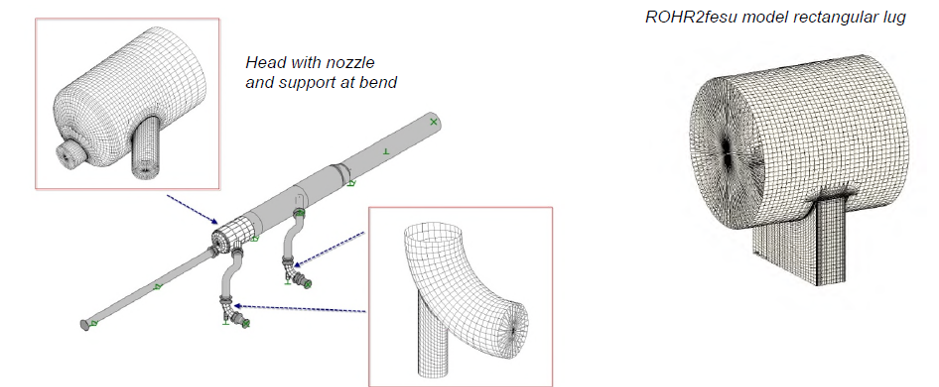 PROBAD
PROBAD is the standard solution for code-based strength calculations of pressure parts. PROBAD is successfully used for years worldwide by leading companies of the boilers and vessels industry, in plant design and in piping construction.
The latest status of standards in PROBAD and a continuously technical development is guaranteed by PROBAD maintenance agreements.
PROBAD offers solutions for the effective use of calculation modules in accordance with the standards:
AD 2000-sheets, TRD-sheets

EN 12952, EN 13480, EN 13445, EN 1591

ASME Sect. I., ASME Sect. VIII./1, ASME B31.1, ASME B31.3

WRC 107, WRC 297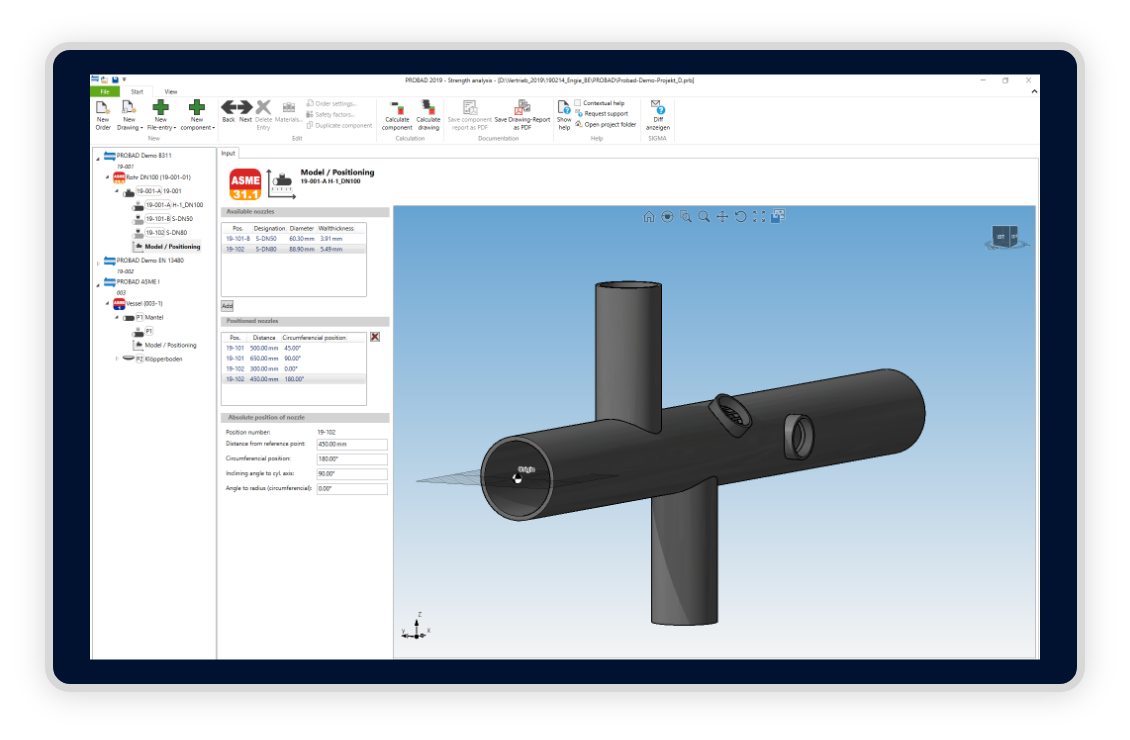 PROBAD features
PROBAD is of modular design; this enables licensing individual modules in relation to the company needs 

Design or optimize components.

 Comprehensive component databases with norms and standards regarding dimensions and tolerances

Material databases containing EN, DIN and ASME materials

Customise values for specific components or materials

Standard-safety factors of the calculation rules are stored and can be modified in accordance with the projects requirements.

Convenient help screens, either as text or graphics.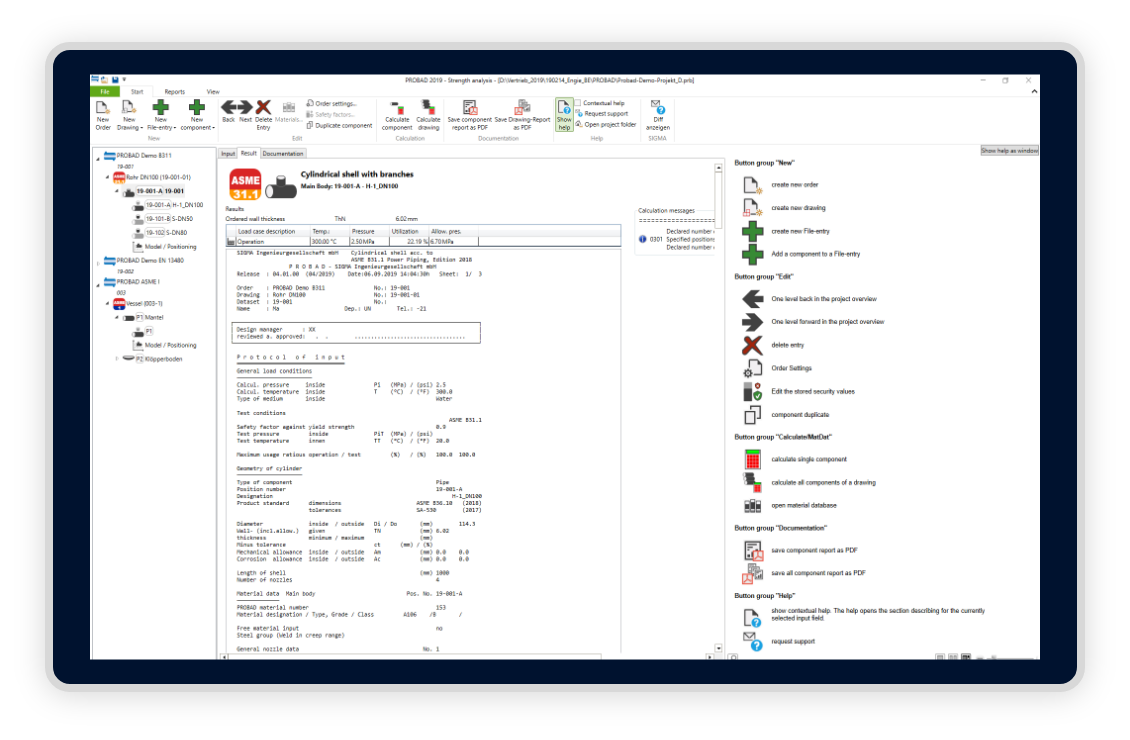 ROHR2flange
Perform flange analysis with the optional available module ROHR2flange.
Flange analyses acc. to


– EN 1591-1
– ASME VIII, Div.1

Automatic analysis of all flanges in the system taking into account all load cases. The number of load cases can be reduced by the user.

Automatic generation of load case combinations required for the analyses.

Simple pre-settings of the flange parameters by means of standard values for flanges, screws and gaskets.

The flanges may be modified individually and in detail.

The gasket database at the moment includes more than 350 different types of gaskets of leading manufacturers

Report of the calculation results in a list

Automatic generation of a calculation report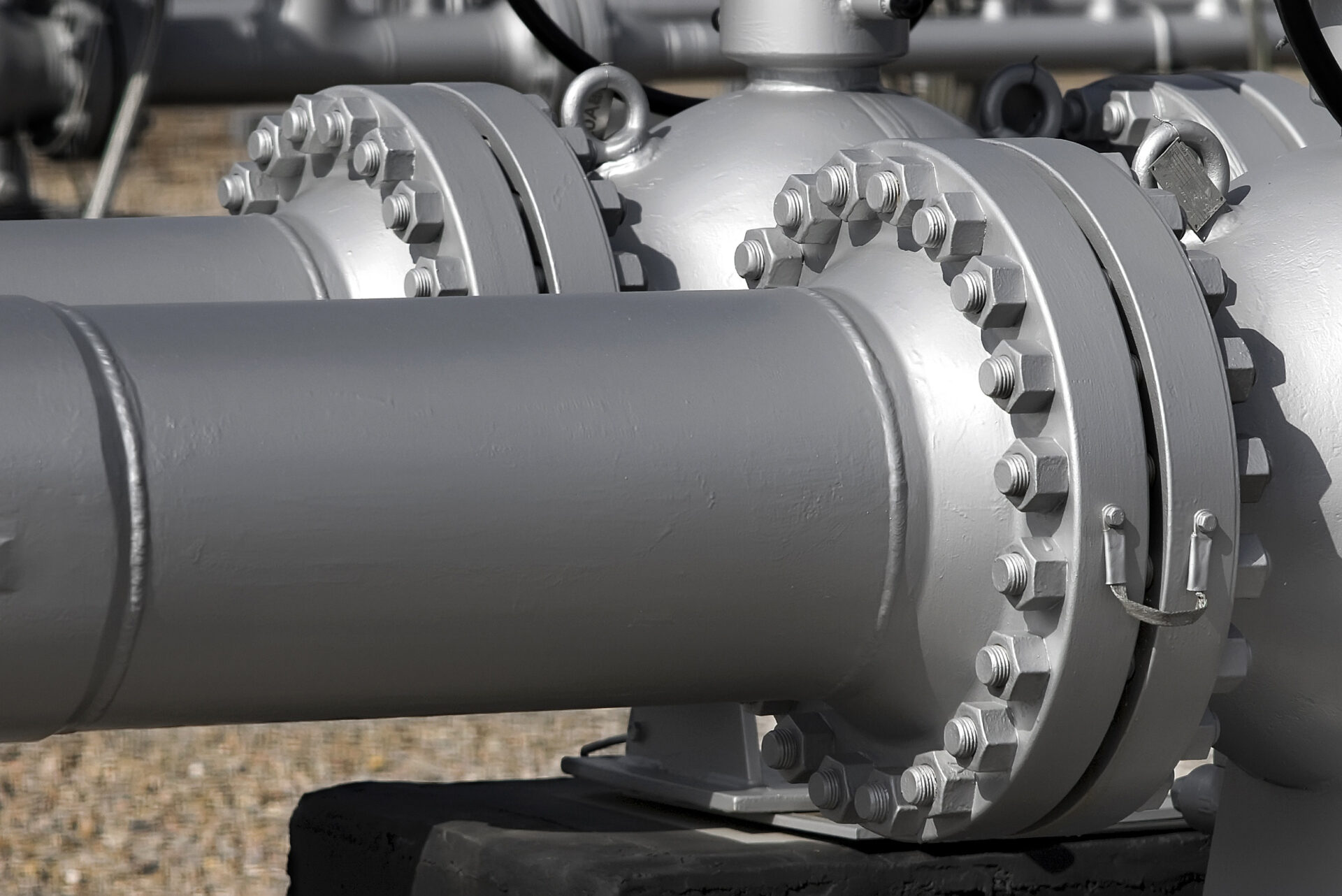 Get started with ROHR2
DOCAN is a registered ROHR2 worldwide distribution partner, fully licensed to resell the ROHR2 software to engineers that are looking to add it to their suite.
As a ROHR2 sales partner we offer training and guidance. We support you in applying ROHR2 to your working environment and projects, to ensure that you can maximise the software and its capabilities.
ROHR2 training with DOCAN
Our team has many years of experience in the field of computer aided engineering and pipe stress analysis, so our partnerships with world leading software houses extend beyond distribution and sales.
We can provide bespoke training courses to suit the customer requirements. In addition, we can combine consultancy and training to transfer the necessary technology and skills over time, allowing you to undertake the work yourselves and DOCAN to provide expert guidance and advise.